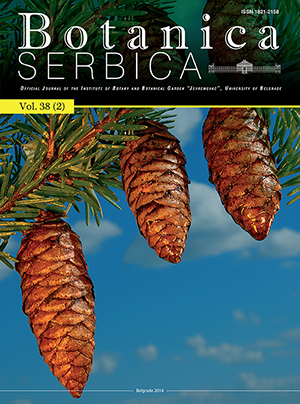 BOTANICA SERBICA
Volume 38
Issue 2
2014


The 200th Anniversary of the Birth of Josif Pancic
STEVANOVIC B.
Pages 199-200

Full reference | Abstract | Full text PDF
Flora of Belgrade surroundings (Serbia) 150 years after the Pancic's monography - a comparative overview
JOVANOVIC, S., STOJANOVIC, V., LAZAREVIC, P., JELIC, I., VUKOJICIC, S., JAKOVLJEVIC, K.
Pages 201-207

Full reference | Abstract | Full text PDF
ABSTRACT: Detailed data on the flora of Belgrade and its surroundings, collected by Josif Pancic date from the second half of 19th century. After a long break, the expansion of floristic and vegetation studies of Belgrade territory started in 1950 and has continued till the present day. All the available floristic data, historic and current, for Belgrade territory were taken into account. Comparative diversity analysis of the ancient and the recent vascular flora were carried out and preliminary results are presented in this paper.

KEY WORDS: Josif Pancic, urban flora, extinct species, threatened species, alien taxa
Nomenclature review of the plants published by Josif Pancic (Nomenclator Pancicianus novus)
NIKETIC,M.
Pages 209-236

Full reference | Abstract | Full text PDF
ABSTRACT: An annotated list of plant names published by Josif Pancic was prepared through review of original herbarium material and critical assessment of more recent taxonomic papers. Of the 226 names first used by this author, he claimed 168 as new taxa for science, including 116 new plant species. The analysis of validity has shown that 87 of Pancic's taxa, or more than one half (51.79%) are currently accepted, including 54 in specific and 11 in subspecific rank. Furthermore, 48 additional taxa were named in his honor by other authors. In this paper nine new synonyms and four nomenclatural novelties are proposed.

KEY WORDS: Josif Pancic, nomenclature, taxonomy, current taxa
Variation in needles anatomy of Picea omorika (Pinaceae) plants belonging to different gene pools in natural populations on Tara Mt. in Serbia
RADOVANOVIC, B., ŠINŽAR-SEKULIC, J., RAKIC, T., ŽIVKOVIC, I., LAKUŠIC, D.
Pages 237-246

Full reference | Abstract | Full text PDF
ABSTRACT: Picea omorika (Serbian spruce) is a stenoendemic species whose current distribution range is restricted to refugial habitats in W Serbia and E Bosnia and Herzegovina. We analyzed variability in the anatomical structure of needles in populations from Tara Mt. which had previously been found to belong to two gene pools characterized by different history and levels of genetic diversity. Needle anatomy was investigated on transverse, sagittal and longitudinal sections and 28 characters were measured. Descriptive statistics, one-way and two-way ANOVA, principal component analysis (PCA), canonical discriminant analysis (CDA) and cluster analysis (UPGMA) were performed to describe the overall anatomical variability and relationships between individuals from three populations. We found that plants originating from different gene pools showed significant anatomical differences. The main differences between the populations were related to needle thickness and width, dimensions of the mesophyll, vascular bundle and endodermis, volume and number of the intercellular spaces and dimensions of resin ducts.

KEY WORDS: Picea omorika, stenoendemic, relict, needle anatomy, resin duct, variability
Review of nomenclatural notes in the European Gesneriaceae
KUZMANOVIC, N., VUKOJICIC, S., STRID, A., STEVANOVIC, V.
Pages 247-250

Full reference | Abstract | Full text PDF
ABSTRACT: In this paper the nomenclatural issues regarding all representatives of the family Gesneriaceae in Europe are discussed. The type for the generic name Ramonda is confirmed, the typification of Jankaea heldreichii is corrected, and information is provided for already validly-typified species names regardless of their current taxonomic status.

KEY WORDS: Gesneriaceae, Europe, nomenclature, typification
Plant species and subspecies discovered by Dr. Josif Pancic 1 - distribution and floristic importance
STEVANOVIC, V., VLADIMIROV, V., NIKETIC, M., VUKOJICIC, S., JAKOVLJEVIC, K., LUBARDA, B., TOMOVIC, G.
Pages 251-268

Full reference | Abstract | Full text PDF
ABSTRACT: In this paper, we present 17 taxa that Josif Pancic discovered and published during investigations of flora of Serbia, Montenegro and Bulgaria in the period 1846-1888. For each species distribution maps are given based on our own field research, rich herbarium collections (BEOU, BEO, SOM) and literature sources. Classification of plant taxa into floristic elements and basic information about the habitat and ecology of each taxon are also presented. The following 17 species and subspecies are presented: Picea omorika (Pancic) Purk., Parietaria serbica Pancic, Cerastium rectum Friv. subsp. petricola (Pancic) H. Gartner, Heliosperma macranthum Pancic, Heliosperma pusillum (Waldst. & Kit.) Rchb. subsp. monachorum (Vis. & Pancic) Niketic & Stevan., Heliosperma pusillum (Waldst. & Kit.) Rchb. subsp. moehringiifolium (Uechtr. ex Pancic) Niketic & Stevan., Dianthus moesiacus Vis. & Pancic, Consolida uechtritziana (Pancic ex Huth) Soó, Erysimum commatum Pancic, Malcolmia orsiniana (Ten.) Ten. subsp. serbica (Pancic) Greuter & Burdet, Barbarea balcana Pancic, Cardamine serbica Pancic, Sempervivum leucanthum Pancic, Viola orbelica Pancic, Althaea kragujevacensis Pancic ex Diklic & Stevan., Euphorbia subhastata Vis. & Pancic and Haplophyllum boisserianum Vis. & Pancic. The remainder of Pancic's 48 plants will be presented in following issues of "Botanica Serbica".

KEY WORDS: Josif Pancic, endemic flora, distribution of vascular plants, Balkan Peninsula.
Lectotypification of Campanula secundiflora Vis. & Pancic (Campanulaceae), a species of European concern
JANKOVIC, I., KUZMANOVIC, N., CLEMENTI, M., LAKUŠIC, D.
Pages 269-271

Full reference | Abstract | Full text PDF
ABSTRACT: In this paper we provide the lectotypification of Campanula secundiflora, the Tertiary relict and paleostenoendemic species described by Josif Pancic and Roberto de Visiani in the first work they published jointly: Plantae serbicae rariores aut novae – Decas I (1862). All studied material is deposited in BEOU and PAD herbarium collections.

KEY WORDS: Campanulaceae, Campanula secundiflora, nomenclature, typfication.