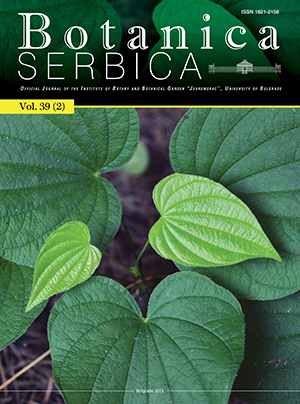 BOTANICA SERBICA
Volume 39
Issue 2
2015


Editorial
STEVANOVIC, B.
Pages 71

Full reference | Abstract| Full text PDF
Professor dr Mirjana Neškovic
GIBA, Z., SABOVLJEVIC, A.
Pages 73-74

Full reference | Abstract | Full text PDF
Professor dr Ljubinka culafic
GIBA, Z., PULEVIC, V.
Pages 75-78

Full reference | Abstract | Full text PDF
Secoiridoid glycosides production in hairy roots of Gentiana pneumonanthe L.: optimization of cytokinin concentration in the culture medium
BOŽIC, D., SKORIC, M., ŠILER, B., ŽIVKOVIC, S., TODOROVIC, S., DMITROVIC, S., BANJANAC, T., MIŠIC, D.,
Pages 79-86

Full reference | Abstract | Full text PDF
ABSTRACT: Gentiana pneumonanthe L. (fam. Gentianaceae) is a herbaceous perennial growing on wet heathlands, grasslands and hay meadows of Europe and Asia. Like other Gentiana species, G. pneumonanthe is characterized by the production of bitter secoiridoid glycosides (SGs) widely used in the pharmaceutical industry. Hairy roots (HRs) of G. pneumonanthe, as an alternative source of these phytochemicals, have been induced by agropine type Agrobacterium rhizogenes strain (A40M70GUS), and were characterized by genetic stability, sizable biomass production, and increased biosynthetic capacity compared to the native plant roots and above ground parts. Although HRs of G. pneumonanthe showed intensive growth without the application of phytohormones, the effect of varying concentrations of cytokinins (BAP – benzylaminopurine; KIN – kinetin) on the morphogenesis and on the content of SGs has been investigated in the present study, with the aim of optimizing in vitro conditions for enhanced production of targeted secondary metabolites. Morphogenetic changes, such as the formation of calli, were induced by both phytohormones. Significant reduction of HR biomass occurred only on treatments with high BAP and KIN concentrations (3 and 4 mg l-1). The content of SGs, especially gentiopicrin and sweroside, was affected by both KIN and BAP. The lowest applied concentration of these phytohormones (0.1 mg l-1) showed a stimulatory effect on the production of gentiopicrin and sweroside. Further increase in both cytokinins concentrations decreased the content of these SGs.
Being genetically stable and fast-growing, HR cultures of G. pneumonanthe could provide a constant and highly productive source of valuable secondary metabolites, and could further be implemented in large-scale bioreactors. Although many challenges still exist for the commercial implementation of this alternative production system, the results presented here demonstrate the opportunities for enhanced SGs production by the application of in low concentrations of both cytokinins and thus highlight the benefits of optimizing growth conditions.

KEY WORDS: Gentiana pneumonanthe, hairy roots, cytokinins, secoiridoid glycosides, secondary metabolites
Effects of juglone on pea and maize seed germination, early seedling development and detoxification enzyme activities
CVETIC´ ANTIC´, T. MILENKOVIC´, V.
Pages 87-93

Full reference | Abstract | Full text PDF
ABSTRACT: Pea and maize responses to treatment with juglone were investigated by quantifying germination, radicle growth and activities of detoxification enzymes quinone reductase and glutathione transferase. Juglone, a naphthoquinone present in Juglans species, is one of the best-examined allelochemicals, yet mechanisms of its action have not been fully elucidated. Pea is considered to be juglone sensitive, while some publications consider maize tolerant to growing near Juglans species. In this study, maize and pea differed in their responses to juglone according to quinone reductase and glutathione transferase activities. A major difference was significantly higher activities of both enzymes in maize in comparison with pea. Neither soluble quinone reductase nor glutathione transferase was responsive to juglone treatment in maize, while both activities were induced by juglone in pea. Increased pea quinone reductase and glutathione transferase activities were, however, still lower than the corresponding activities in maize, indicating that constitutively high activity of detoxification enzymes could be a prerequisite for juglone tolerance. and 4.58%, respectively.

KEY WORDS: allelopathy, juglone, quinonereductase, glutathione-s-transferase
Tomato: a model species for fruit growth and development studies
STIKIC´, R., JOVANOVIC´, Z., VUCELIC´-RADOVIC´, B., MARJANOVIC M., SAVIC´, S.
Pages 95-102

Full reference | Abstract | Full text PDF
ABSTRACT: Because of its specific biochemical and molecular properties and nutrient importance, tomato (Solanum lycopersicum) is an established model to study fruit growth and development. This review paper addresses several aspects of tomato fruit growth and development including its specific phases, control by water regime, cell wall enzymes, plant hormones and metabolic processes.

KEY WORDS: tomato, fruit, growth, development
In vitro morphogenesis and secretion of secondary metabolites of Nicotiana tabacum tall glandular trichomes
UZELAC, B., JANOŠEVIC´, D., STOJIC?IC´, D., BUDIMIR, S.,
Pages 103-110

Full reference | Abstract | Full text PDF
ABSTRACT: The tall glandular trichomes occurring on young expanding leaves of Nicotiana tabacum grown in vitro were investigated using light and electron microscopy. Previous studies reported that the tall glandular trichomes of tobacco produce large quantities of various compounds including diterpenes. To explore the cellular structures required and putatively involved in diterpene biosynthesis and secretion, the present study focused on the development of the tall glandular trichomes, and on histochemical and ultrastructural analysis of their secretory cells under in vitro conditions. Electron microscopy confirmed earlier light microscopy observations of the glandular nature of the tall leaf trichomes. Their head cells, which secrete resinous material, exhibited characteristics common to gland cells: a dense cytoplasm, numerous mitochondria and little vacuolation. They contained structurally well-developed chloroplasts and an elaborate network of endoplasmic reticulum, as well as electron dense inclusions in chloroplasts and in small vacuoles. The dominance of smooth endoplasmic reticulum suggests its involvement in diterpene biosynthesis. Histochemical tests were positive for both lipophilic and hydrophilic secretions, which included terpenoids (essential oils and resins) and acidic/neutral lipids, as well as phenolic compounds (tannins), alkaloids, mucilage/ pectin and polysaccharides.

KEY WORDS: glandular trichomes, histochemistry, morphology, tobacco, ultrastructure
In vitro cultures for micropropagation, mass multiplication and preservation of an endangered medicinal plant Sideritis scardica Griseb
SHTEREVA, L.A., VASSILEVSKA-IVANOVA, R.D., KRAPTCHEV B.V.
Pages 111-120

Full reference | Abstract | Full text PDF
ABSTRACT: In vitro methods have been widely used in the conservation of threatened plants in recent years and it is clear that this trend is increasingly being applied to more plant species at risk of extinction. Herewith, an efficient protocol has been developed for mass-propagation of Sideritis scardica from apical buds and internode stem explants and conservation in natural habitats. Murashige and Skoog basal medium containing 2 mg L-1 zeatin + 0.2 mg L-1 indole-3-acetic acid (IAA) and 0.25 mg L-1 zeatin + 0.2 mg L-1 indole-3-acetic acid were the best for shoot proliferation. The use of both types of explants was beneficial for micropropagation. Elongated shoots were successfully rooted in the MS half-strength basal medium supplemented with 0.2 mg L-1 IAA + 2 mg L-1 indole-3- butyric acid + 0.5 mg L-1 gibberellic acid. Propagation and growth of plantlets under greenhouse conditions were managed successfully. The in vitro propagation of S. scardica may be applicable for other Sideritis species and for other economically important medicinal plants as well.

KEY WORDS: Pirin mountain tea, Mursalitsa tea, seed germination, in vitro response, micropropagation, ex vitro
Paraquat-mediated oxidative stress in Nepeta pannonica L.
CVETKOVIC´, J., MILUTINOVIC´, M., BOLJEVIC´, J., ANIC?IC´, N., NESTOROVIC´ ŽIVKOVIC´, J., ŽIVKOVIC´, S., MIŠIC´, D.,
Pages 121-128

Full reference | Abstract | Full text PDF
ABSTRACT: The toxicity of bipyridynium herbicide paraquat (PQ) is related to its rapid generation of superoxide in a chain reaction and the production of reactive oxygen species (ROS) in chloroplasts under light conditions. The nature and magnitude of the cellular responses to oxidative stress effects of five paraquat concentrations (0.05-20 µM) on in vitro grown Nepeta panonnica shoots were investigated. The results revealed that relative abundances of Mn SOD and Cu/Zn SOD isoforms changed dose-dependently, whereas catalase (CAT) and peroxidase (POX) activities increased along with paraquat concentrations. Polyphenol oxidase (PPO) activity was progressively inhibited, and, consequently, phenolic compounds were accumulated. Rosmarinic acid (RA) and an unidentified caffeic acid derivative (UCAD) were found to be the most abundant phenolics in shoots of this species. Paraquat was shown to be a potent elicitor that can stimulate accumulation of potent bioactive compounds in Nepeta pannonica, such is rosmarinic acid.

KEY WORDS: Nepeta pannonica, paraquat, oxidative stress, rosmarinic acid.
In vitro propagation of Iris reichenbachii Heuff. and clonal fidelity of regenerated plants
JEVREMOVIC´, S., LOJIC´, M., JEKNIC´, Z., TRIFUNOVIC´-MOMC?ILOV, M., ANTONIC´, D., PETRIC´, M., SUBOTIC´, A., RADOJEVIC´, LJ.
Pages 129-136

Full reference | Abstract | Full text PDF
ABSTRACT: An efficient propagation protocol by somatic embryogenesis and organogenesis of Balkan endemic iris, Iris reichenbachii, was achieved and clonal fidelity of regenerated plants evaluated. Both regeneration pathways were induced at the same time in zygotic embryo culture on Murashige & Skoog (MS) medium supplemented with 0.5-5.0 mM 2,4-dichlorophenoxy acetic acid (2,4-D) as the sole hormone. Embryogenic calli were further mantained on medium supplemented with 2,4-D and kinetin (Kn; 0.5 and 5.0 mM, respectively). Organogenic calli were selected and further cultured on MS media supplemented with 1-naphthaleneacetic acid (NAA) and benzyladenine (BA; 0.5 and 4.5 mM, respectively) for shoot initiation. Somatic embryos germinated and shoots rooted on MS plant growth regulator-free medium. Plants regenerated by both procceses were succesfully acclimatized in greenhouse conditions and flowered in the following flowering season. Some alterations in flower morphology were detected among plants regenerated by organogenesis. Flow cytometric analysis revealed that plants with altered morphology of flowers had the same ploidy level and genome size as plants collected from the natural habitat. A tetraploid plant was observed in the population of plants regenerated by somatic embryogenesis induced at a high concentration of 2,4-D (10.0 mM) .

KEY WORDS: Iris, somatic embryogenesis, organogenesis, flowering, flow-cytometry
Estimation of meristemoid complexity during Tacitus bellus in vitro shoot organogenesis by 2D fractal analysis
SPASIC´, S.Z., MITROVIC´, A. LJ., JANOŠEVIC´, D., BUDIMIR, S.
Pages 137-142

Full reference | Abstract | Full text PDF
ABSTRACT: This study considered the analysis of 2D fractal characteristics of cell populations that participate in meristemoid formation during the process of de novo shoot organogenesis in Tacitus bellus leaf explant culture. Micrographs representing early and late meristemoid formation stages were used for 2D fractal analysis. Analysis showed that meristemoid complexity at two selected points of development were characterized by significantly different fractal dimension values. This result demonstrates that the proposed method is efficient for the fine distinction of histologically similar structures at an appropriate resolution of micrographs.

KEY WORDS: 2D Fractal Dimension; Shoot Organogenesis; Tacitus bellus
Early flowering species - model plants for studies of ontogenesis in vitro
MITROVIC´, A.LJ., DMITROVIC´, D., ŽIVANOVIC´, B.D.
Pages 142-149

Full reference | Abstract | Full text PDF
ABSTRACT: Chenopodium rubrum L. and Chenopodium murale L. are two annual weed species with different photoperiodic demands. The use of species from the same genus, with a similar type of morphogenesis but with different photoperiodic demands, is valuable for comparative studies of flowering. In addition, being classified as early flowering species, these two species represent model plants suitable for studies of ontogenesis in vitro. This review describes part of our results obtained on these two model plants under the guidance of Professor Ljubinka C´ulafic´, starting with early development, such as somatic embryogenesis, followed by photoperiodic and hormonal regulation of flowering, to the photoperiodic control of different stages of ontogenesis.

KEY WORDS: Chenopodium rubrum L., Chenopodium murale L., ontogenesis, flowering, in vitro, photoperiod.
Induction of peroxidase isoforms in the roots of two Verbascum thapsus L. populations is involved in adaptive responses to excess Zn2+ and Cu2+
MORINA, F., VIDOVIC´, M., KUKAVICA, B., VELJOVIC´-JOVANOVIC´, S.
Pages 151-158

Full reference | Abstract | Full text PDF
ABSTRACT: To investigate metal specific responses of root class III peroxidases (POD, EC 1.11.1.7), two populations of Verbascum thapsus L. were exposed to excess Zn2+ or Cu2+ for three weeks in hydroponic culture. One population originating from an uncontaminated area (NMET) and one from an industrial disposal area for jarosite residues from zinc refining (MET) were chosen to test the capacity of V. thapsus to adapt to excess metal in the soil. Exposure to 60 µM Zn2+ led to increased levels of protein carbonyl groups only in the roots of NMET, which was accompanied by higher increase of POD activity and NADH-oxidase activity compared with MET plants. New anionic and cationic POD isoforms were induced in the roots of both populations in response to Zn2+ treatment, while IAA-oxidase activity decreased. On the other hand, root growth was more affected by Cu2+ than Zn2+ in both populations, which was correlated with increased auxin-oxidase (IAA-oxidase) activity. Cu2+ induced an increased activity of anionic POD isoforms in the roots of both populations, yet the ratio of NADH-oxidative to peroxidative POD activity remained higher in NMET than in MET plants. Overall results show differential effects of Zn2+ and Cu2+ on POD activity in the roots of V. thapsus L. In addition, higher tolerance to Zn2+ in MET plants than in NMET indicated that these plants have developed an adaptive mechanism to cope with Zn2+ excess.

KEY WORDS: auxin, copper, NADH, peroxidase, populations, Verbascum thapsus, zinc.
Differences in regenerative capacity of Oriental lily (Lilium sp.) cultivars
LOJIC´, M., VINTERHALTER, B., SUBOTIC´, A., VINTERHALTER, D.
Pages 159-167

Full reference | Abstract | Full text PDF
ABSTRACT: The regenerative potential of in vitro-produced bulblets was investigated in three commercial Oriental lily cultivars ('Aubade', 'Belcanto' and 'Solaia') in relation to two synthetic cytokinins BA and TDZ and picloram as representative of auxins. Single bulblet leaflets were excised and cultured on MS medium supplemented with either 6-benzyladenine (BA 0-2.0 mg/l), thidiazurone (TDZ 0-2.0 mg/l) or picloram (PIC 0-3.0 mg/l). In all three cultivars and medium combinations explants after 5 weeks regenerated somatic embryos, bulblets and plantlets. While bulblet production was balanced, plantlet and somatic embryogenesis (SE) production were complementary with pronounced SE production at higher plant growth regulator concentrations and plantlet production at lower concentrations. Picloram had a sharp regeneration demarcation with low plantlet production above 0.5mg/l. BA and TDZ produced SE at all concentrations including hormone-free controls. On media with TDZ and BA there was a gradual change from bulblet regeneration at lower to somatic embryogenesis at higher concentrations. For all three cultivars, details of the regeneration process were studied by histological techniques in TDZ-supplemented medium, showing early stage SE regeneration in all samples. Mature, elongated SE stages were missing, indicating early transition of SE into bulblets. The optimal propagation conditions were elaborated for all three lily cultivars.

KEY WORDS: bulblets, somatic embryogenesis, regeneration, Oriental lilies, BA - 6-benzylamino purine, TDZ - thidiazurone (N-phenyl-N'-1,2,3-thiadiazol-5-yl urea), PIC – picloram
Functional anatomy of vascular tissue as a tool to understand transport of water and assimilates into developing fruit
RANC?IC´, D., PEC´INAR, I., RADOŠEVIC´, R., TERZIC´, M., PEKIC´ QUARRIE, S.
Pages 169-176

Full reference | Abstract | Full text PDF
ABSTRACT: The yield of crop plants and fruit growth depends, to a large extent, on the efficiency of the vascular tissue, in optimal conditions, as well as in stress conditions. Most of the material on which fruit growth depends is transported from the stem into the fruit through the fruit pedicel, by the xylem and phloem, so the anatomy of fruit pedicel is an important factor in understanding water transport from stem to fruit. This paper provides an overview of micro-morphological research of the tomato fruit pedicel using various methods in the Laboratory for Functional Anatomy of Crop Plants at the Faculty of Agriculture, Belgrade University. Such an approach is important for understanding transport mechanisms as important physiological processes occurring during fruit growth.

KEY WORDS: tomato, microscopy, hydraulic conductance, xylem, phloem, fruits
An improved HPLC-DAD method for simultaneously measuring phenolics in the leaves of Tilia platyphyllos and Ailanthus altissima
VIDOVIC´, M., MORINA, F., MILIC´, S., VELJOVIC´ JOVANOVIC´, S.
Pages 177-186

Full reference | Abstract | Full text PDF
ABSTRACT: Phenolic compounds are one of the most important groups of secondary metabolites in plants, with various physiological functions. Their diverse chemical structure and susceptibility to auto- oxidation, and their ability to act as both antioxidants and prooxidants in the presence of metal ions, are some of the main reasons why it is difficult to measure phenolic groups in plant tissues accurately. We present an optimized extraction and hydrolysis procedure which preserves the original chemical structure of phenolics. The presented HPLC method was improved to enable the simultaneous separation and quantification of 39 compounds from different phenolic subclasses (benzoic acids, hydroxycinnamic acids, flavones, flavonols, flavanones, flavanols, isoflavones, anthocyanidins; aglycones and glycosides). Recovery after extraction and complete hydrolysis of glycosides was more than 95% and 84%, respectively. The method was applied to the analysis and comparison of phenolic profiles in the leaves of two species, Ailanthus altissima (Mill.) Swingle and Tilia platyphyllos Scop. from an urban forest park and busy traffic area. The presence of cyanidin glycosides in A. altissima leaves was reported for the first time. Results indicated higher accumulation of phenolics, with two hydroxyl groups in the ortho- position, than flavonoids, with a monohydroxy substitution in the leaves of both species from a busy traffic area.

KEY WORDS: HPLC method development; anthocyanins; flavonoid glycosides; phenolic acids, phenolic profiles; urban environment.
Chenopodium murale hairy root exudates inhibit growth and induce oxidative stress in collard greens (Brassica oleracea L. var. acephala)
MITIC´,N., STANIS?IC´, M., SAVIC´, J., ZDRAVKOVIC´-KORAC´, S., NINKOVIC´, S.
Pages 187-195

Full reference | Abstract | Full text PDF
ABSTRACT: Goosefoot (Chenopodium murale L.) is a cosmopolitan weed species whose root produces substances with allelopathic effects to various plant species, including agricultural ones. To investigate the allelopathic effect of C. murale on vegetable plant collard greens (Brassica oleracea L. var. acephala), the sterilized seeds of collard greens were treated with liquid nutrient medium in which C. murale hairy root clone R5 was grown for 4 weeks and which contained its exudates. Results indicated that final germination rate was not affected by R5 while the growth and development of collard greens seedlings were significantly inhibited. The roots were more affected than shoots. Comparing to the control, seedlings treated with R5 had reduced number of roots per seedling (27%), root length (33%) and root fresh weight (59%). Further, R5 led to the seedlings bending, loss of chlorophyll in the leaves, root necrosis and finally seedlings decay, indicating the ultimate lethal effect of C. murale allelochemicals. The seedling growth inhibition was accompanied with alteration in antioxidant enzymes activities illustrated by increased peroxidase (POD), superoxide dismutase (SOD) and catalase (CAT) activity in shoots and emphasized CAT and decreased SOD activity in roots. The results could be contributed to the dissemination of knowledge about allelopathic influence of C. murale on cultivated plants and can be helpful in determining the mode of action against this weed species to protect collard greens plants.

KEY WORDS: Allelopathy, Chenopodium murale, transformed roots, collard greens, inhibition, germination/ seedling growth