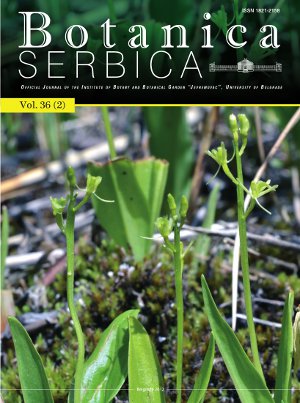 BOTANICA SERBICA
Volume 36
Issue 2
2012


Variations in some quality attributes of air-dried fruit of two apple cultivars from Iran
HASSANPOURAGHDAM MB, MEHRABANI LV & DADPOUR MR.
Pages 75-79

Full reference | Abstract | Full text PDF
ABSTRACT: Apple is known as an available natural source of phenolic compounds that have a great effect on human health. Quantitative analyses of 'Zonouz' and 'Gala' apple phenolic compounds were carried out by HPLC and colorimetric methods during commercial harvest time. For this, fruits were harvested, separated into peel and pulp, and air-dried for measurements of pH, total soluble solids (TSS) and total acidity (TA) during their development. The results showed no differences between two apple cultivars regarding pH. 'Gala' had higher TSS content compared to 'Zonouz'. Also, colorimetric methods revealed that the highest amount of total phenolics, anthocyanins, proanthocyanidins and flavonoid compounds were recorded in 'Gala' and 'Zonouz' apple peel, respectively. By contrast, 'Zonouz' pulp contained higher amounts of these phenolic compounds than 'Gala' pulp. HPLC analysis showed that the higher quantities of flavanols were in 'Zonouz' fruit (peel and pulp), due to much higher amounts of epicatachin in 'Zonouz' compared with 'Gala

KEY WORDS: apple, HPLC, anthocyanin, flavonoid, phenolic compounds
Qualitative properties of Melissa officinalis after the application of Rastim 30 DKV
VAVERKOVÁ Š, MISTRÍKOVÁ I & FARKAŠ P.
Pages 81-84

Full reference | Abstract | Full text PDF
ABSTRACT: Melissa officinalis L. (lemon balm) is one of the important medicinal plant species. It is important to determine what conditions the plant needs for its optimum growth and development and when the plant contains the most high-quality oils. The aim of our work was to investigate the content and composition of essential oil in various samples of the plants at various developmental stages of growth and to monitor the effect of the auxinoid growth regulator Rastim 30 DKV. Rastim 30 DKV treatment did not change the quality of lemon balm essential oil in comparision with control plants.

KEY WORDS: Melissa officinalis L., essential oil, ontogenesis, leaf inserts, Rastim 30 DKV [ 3-(benzyloxycarbonyl-methyl)-2-benzothiazolinone
Liparis loeselii(L.) Rich. – a plant rediscovered in the Balkan peninsula
MILANOVIC Ð.
Pages 85-90

Full reference | Abstract | Full text PDF
ABSTRACT: The species Liparis loeselii (L.) Rich. is a very rare declining species throughout its distribution. In the Balkan Peninsula it has the status of a regionally extinct species, with its latest record in Tundzha Hilly Country in Bulgaria from 1995. During our latest investigations in Livanjsko polje (Bosnia and Herzegovina) this orchid was rediscovered in a numerous population in a small surface area. The nearest certain localities are located in Slovenia, ca. 255 km to the northwest of the new locality. The new status of this endangered species in Bosnia and Herzegovina as Critically Endangered species (CR) is proposed.

KEY WORDS: Liparis loeselii, new record, endangered species, Balkan Peninsula, Bosnia and Herzegovina, Livanjsko polje
Biochemical Analysis of Some Brown Seaweeds from the Aegean Sea
DEMIREL Z, YILDIRIM ZD, TUNEY I, KESICI K & SUKATAR A.
Pages 91-96

Full reference | Abstract | Full text PDF
ABSTRACT: The purpose of this project was to investigate the total protein, sugar and phenolic content in phosphate extracts of marine macroalgae species from the Aegean Sea. Colpomenia sinuosa(Mertens ex Roth) Derb?s & Solier, Petalonia fascia(O.F. Müller) Kuntze, Scytosiphon lomentaria(Lyngbye) Link., Dilophus spiralis(Montagne) G. Hamel, and Padina pavonia J.V. Lamouroux were collected from Izmir Bay during April, as well as Cystoseira sp. collected on the Urla, Bodrum, Fethiye and Kas coastlines during the spring and summer months. The phenolic content of five brown algae extracts varied from 2.5 mg to 21.8 mg GAE/10 g. Dilophus spiralis extracts demonstrated the lowest concentrations based on total protein assay, while Scytosiphon lomentaria extracts showed the highest sugar contents. The extract of Cystoseira sp. collected from Fethiye and Kas, gave the highest concentrations in May.

KEY WORDS: Brown algae, protein assay, total phenolic content, total sugar
Effects of some growth regulators on oil yield, growth and hormonal content of lemon grass (Cymbopogon citrates)
ABBAS SM & EL-SAEID HM
Pages 97-102

Full reference | Abstract | Full text PDF
ABSTRACT: In field trails on lemongrass (Cymbopogon citrates), the effect of growth regulators, viz. indole butyric acid (IBA) and mepiquat chloride (MC), and their mode of application was studied to assess their effects on growth, oil yield and hormonal contents. The results suggested that application of growth regulators had no favourable effect on growth and oil yields in lemon grass. However, application of MC decreased endogenous GA and IAA concentrations while IBA increased them

KEY WORDS: Lemongrass, indole butyric acid, mepiquat chloride, phytohormones, oil, yield
Leaf anatomical study of taxons Salvia nemorosa subsp. tesquicola, Salvia nutans, and Salvia × Sobrogensis from Dobrudja
BERCU R, NEGREAN G & BROASCA L.
Pages 103-110

Full reference | Abstract | Full text PDF
ABSTRACT: This paper describes aspects of the leaf anatomy of two species of Salvia L.: Salvia nemorosa L. subsp. tesquicola(Klokov & Pobeda.) Soó, Salvia nutans L. and a hybrid of the two plants - Salvia× dobrogensis Negrean. The objective was to highlight common anatomical characteristics and superiority of the hybrid, compared with its parental species. Differences were present in the structure of both the petiole and blade. For the petiole, differences concerned the degree of development of the external (collenchym and chlorenchym) and inner cortex. The vascular system in all species, comprised a great number of vascular bundles, with different levels of development of the conductive tissues. The mesophyll was heterogeneous, bifacial (S. nemorosa subsp. tesquicolaand hybrid) and S. nutans ecvifacial. Numerous glandular and non-glandular trichomes (hairs) were present, different in structure, shape and size. Stomata were found on both upper and lower epidermis of the blade and were of the diacytic type, impressing, with an amphistomatic character. The vascular system of the mid-vein of the Salvia species was well developed, in particular those of the hybrid species. The petiole and blade anatomy of the two species of Salvia and their hybrid showed common and specific features indicating that, although the hybrid leaf is more developed anatomically than its parental species, the petiole has many features similar to that of Salvia nutans and the blade is very similar to that of Salvia nemorosa.

KEY WORDS: anatomy, leaf, Salvia species.
First record of vivipary in a species of the genus Sesleria (Poaceae)
KUZMANOVIC N, COMANESCU P, LAKUŠIC D.
Pages 111-116

Full reference | Abstract | Full text PDF
ABSTRACT: We report the occurrence of rootless plantlets in the inflorescence of Sesleria robusta Schott, Nyman & Kotschy. cultivated in the Botanical garden "Jevremovac" in Belgrade, Serbia. We assumed it was pseudo-vivipary that had most probably been induced by unfavourableconditions during a flowering that had occurred several months after the normal flowering time. To the best of our knowledge, this is the first record of vivipary sensu latoin a Sesleria species

KEY WORDS: vivipary, induced pseudo-vivipary, Poaceae, Sesleria
Evaluation of phenolic content and antioxidant capacity in some medicinal herbs cultivated in Iran
DERAKHSHANI Z, HASSANI A, PIRZAD A, ABDOLLAHI R & DALKANI M.
Pages 117-122

Full reference | Abstract | Full text PDF
ABSTRACT: In this study the total phenolic content and antioxidant capacity of various medicinal plant species belonging to the Lamiaceae family cultivated in the climatic conditions of Iran were determined and compared. The phenolic content and antioxidant capacity of flowers and leaves of some Lamiaceae species were also compared with those of several non-Lamiaceae species. Total phenolic content and antioxidant capacity of the selected herbs ranged from 6.87 to 33.22 mg GAE/g fresh weight and 0.59 to 3.70 mmol Fe/100 g fresh weight, respectively. The highest phenolic content and antioxidant capacity was found in rosemary (Rosmarinus officinalis) and the lowest contents were found in flower-of-an-hour(Hibiscus trionum). Although antioxidant capacity and phenolic content in the selected Lamiaceae herbs varied, all of them had useful levels of phenolic compounds and demonstrated considerable antioxidant capacity. It seems that consumption of these herbs could be useful to decrease the damage caused by reactive oxygen species and reduce the risk of diseases. Furthermore, the results showed that flowers as well as leaves of the selected herbs could have a high phenolic content and antioxidant capacity. In this study, Lamiaceae herbs were also shown to have higher amounts of phenolic compounds and antioxidants compared with herbs belonging to other families.

KEY WORDS: total phenolic content, antioxidant capacity, Lamiaceae
Improved alkaloid content in callus culture of Catharanthus roseus
VERMA AK, SINGH RR & SINGH S.
Pages 123-130

Full reference | Abstract | Full text PDF
ABSTRACT: The low yield and high market price of the pharmaceutically important alkaloids of Catharanthus roseus(L.) G. Don viz. vincristine, vinblastine and ajmalicine have created interest in improved alternative routes for their production such as using cell and tissue culture. The callus developed on Murashige and Skoog (MS) media supplemented with different concentrations of auxins and cytokinins was found to have variable alkaloid contents. Combinations of auxins with cytokinins were found to be better for leaf callus growth and enhancement of alkaloid content. The highest enhancement of total alkaloid content was found in 0.50 mg/l of 2, 4-D and 1.0 mg/l of BA, compared with other combinations. Our findings indicated that in addition to plant growth regulators and strength of the MS media, various carbon sources and their concentrations had a significant influence on leaf callus growth and total alkaloid content. It was found that half strength MS basal medium supplemented with 2, 4-D and BA (0.5mg/l and 1.0 mg/l, respectively) and 6% sucrose was best for biomass production of leaf callus and enhancement of alkaloid accumulation in C. roseus.

KEY WORDS: Catharanthus roseus, callus culture, leaf callus, callus biomass, alkaloid.
The sinstructure of epiphytic lichens within forests from the eastern part of Bucharest Municipality (Romania)
VICOL I.
Pages 131-138

Full reference | Abstract | Full text PDF
ABSTRACT: This study is based on assessment of epiphytic lichen sinstructure within forestry ecosystems from the eastern part of Bucharest Municipality. The number of lichen species was found to increase with distance from Bucharest. Within Gostilele and Calaretilor forests, the most abundant were common lichen species and the less common lichen species were recorded less frequently. A less common lichen species in the area of study, namely Ramalina pollinaria, sampled in Pustnicul Forest was recorded more frequently (50% relative abundance) compared with cosmopolitan lichen species, such as Physcia adscendens, Xanthoria parietina etc., which had lower relative abundances. All lichen species were recorded on trunks with a rough rhytidoma and with diameters more than 0.50 m.

KEY WORDS: epiphytic lichen, sinstructure, forests, Bucharest Municipality, Romania
Distribution of Lunaria telekiana (Brassicaceae), a poorly known species of European concern
LAKUŠIC D, SURINA B, NIKETIC M & BARINA Z.
Pages 139-144

Full reference | Abstract | Full text PDF
ABSTRACT: Lunaria telekianaJávorka is usually treated as a narrow N.E. Albanian endemic, distributed only in Prokletije Mts (Bjeshkët e Nemuna), S.E. Dinaric Alps. As a European endemic, and restricted to a single European country, L. telekiana is treated as a "target species", or "species of European concern". As a very rare and endangered species it is defined as IUCN CR B2a in Europe.
Although of great international significance, the distribution of L. telekiana is only poorly known, without any georeferenced records on GBIF. Except for the locus classicus "Škelsen ad pagum Tropoja", as well as localities "Bajram Curri" and "Maja e Hekurave" in Albania, all other published and unpublished data on the distribution of this species are largely unknown.
Based on several years of field studies, analyses of herbarium and literature data, the authors managed to record the occurrence of L. telekiana in Albania, Montenegro and Serbia, and to outline its distribution range more precisely.
The size of plant populations at the studied localities and new threatened status according to criteria and categories of IUCN have been established individually for Europe, Albania, Montenegro and Serbia.

KEY WORDS: Lunaria, endemic species, critically endangered species, distribution, Balkan Peninsula
Jacobaea vulgaris subsp. gotlandica (Compositae), new for Italy and Montenegro
CONTI F, BARTOLUCCI F, TOMOVIC G & LAKUŠIC D.
Pages 145-147

Full reference | Abstract | Full text PDF
ABSTRACT: Jacobaea vulgaris Gaertn. subsp. gotlandica(Neum.) B. Nord. was regarded as endemic to the Swedish islands Öland and Gotland. However, recent research of diagnostic characters which define infraspecific taxa within the J. vulgarisgroup revealed that J. vulgaris subsp. gotlandica is more widespread in Europe (Russia, Austria and Greece) than previously thought. By revision of herbarium specimens of the J. vulgaris group from herbarium collections BEOU, CAME and APP it is confirmed that J. vulgaris subsp. gotlandica grows also in Italy and Montenegro, which represent new subspecies for these two countries. In this paper we present detailed chorological data as well as a distribution map of J. vulgaris subsp. gotlandica in the Apennine and the Balkan peninsula

KEY WORDS: Jacobaea vulgaris subsp. gotlandica, Italy, Montenegro, distribution
Professor Dr Dragoljub Grubišic (1946-2011)
In memoriam


Full text PDF